BFC Racing is our motocross team made up of Dr. Bove's sons, Paulie and Gabe. BFC Racing was created to show our support for the riders, while also spreading the word about chiropractic care. We are excited for the racing season and look forward to spending it with the BFC Racing Family.
Paulie Bove #18
Paulie has been riding since he was a child and once he graduated highschool decided to train to be a professional rider. He trained in South Carolina at Club MX in 2021 and 2022. In December 2021 he crashed at Switchback in Pittsburgh PA, and dislocated his shoulder, then later that summer separated his shoulder during a practice at Lake Sugar Tree. Since then he was able to dislocate his shoulder very easily, which hindered his ability to race. During summer 2022 he found out his labrum was torn, and got surgery in June. For 6 months, he wasn't able to ride or do manual labor, but once it healed he went down to Waldo MX in Florida to train with his brother Gabe. The first week he was down there, his shoulder popped out again. So instead of training, he filmed his brother Gabe and kept the Instagram account @crakd_productions active.

Since then Paulie has been riding less often and has started to do the mechanic work and filming for his brother and occasionally racing at tracks like Breezewood Proving Grounds. We've seen so much improvement from him and hope to see him win more races in the future.
Gabriel Bove #02
Growing up Gabe watched his brother ride and therefore started riding himself. He's been racing for the past few years, and once he graduated highschool, decided to go the same route that Paulie did. In January 2023 Gabe and Paulie went down to Waldo MX to train for the Loretta Lynn season. For the 2 months in Florida, they lived in a van and box trailer, and had so much fun. Gabe came back looking faster than ever, and quickly qualified for the Loretta Lynn Regional. He raced his heart out, but didn't make it to Loretta. Gabe has been doing local races and just got his first 1st place finish in a super cross race. We're so excited to see what Gabe does in the future! In the meantime you can find us at Breezewood Proving Grounds.
BFC Racing and CRAKD Productions Merch!
With the creation of BFC Racing and our riding YouTube channel CRAKD Productions, we decided to make merch. We love to see our pit crews and supporters in the crowd in our hoodies and crew necks. Thank you everyone for the support!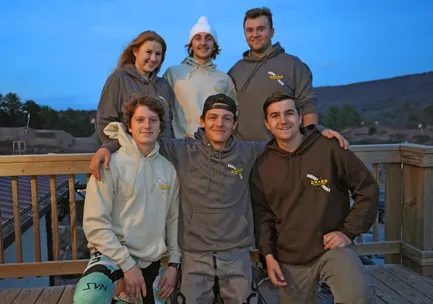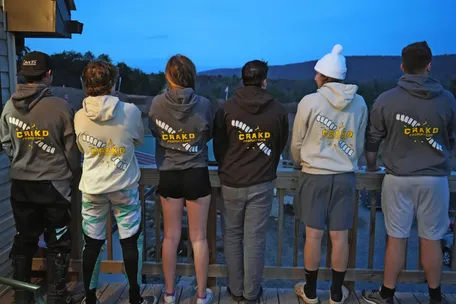 To Purchase any of our merchandise you can get it at our office, message @crakd_productions on Instagram or message Bove Family Chiropractic on Facebook or Instagram. Thank You!
Captain Crunch DC
Check out Captain Crunch DC to see all of our older racing videos and all of our adjustment videos.
We try to post once a week, so click the link to check it out!
CRAKD Productions
In January 2022, we created our new channel for motocross videos and vlogs along with an instagram @crakd_productions! Paulie, Gabe and Briana actively post on these accounts, so give us a follow and subscribe!
BFC Racing & CRAKD Productions Family